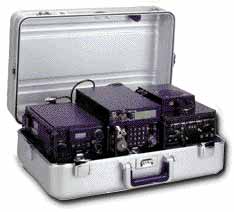 Satellite Communications Package (SATCOM)
The LSSC family is a series of portable secure voice/data terminals
designed with global portability in mind.
This entire system requires only (1) one person to set
up and operate. The LSSC-5000 is a high-quality,
self-contained aluminum shell briefcase.
Compact - only 9" x 13" x 21" - to meet commercial
airline carryon luggage requirements.
Ready to power up. The system has a built-in power
supply (15 amps @ 24 volts) with AC and DC input cables.
To make life even easier, the auto ranging power
supply operates on virtually any power worldwide -
including 400 Hz aircraft power!!
It's hard to believe something this compact can accommodate so much equipment...so well.
There's space for mounting an LST-5D/R transceiver. And there's additional space for a Crypto device
for dual-port operation. Below the equipment tray is storage space for an LSBC-102(V)1 battery charger,
BB-590/U NiCad battery, 9 dB gain SATCOM antenna, H-189 handset, PTUA-200 LOS antenna and input power cables,
manuals, global satellite pointing guide, as well as other accessories.
Also mounted is a removable amplified speaker with handset (H-189) connector and volume
controls in the system. The speaker can be removed and - with additional cable - be extended up
to a few hundred feet from the system. Auxiliary DC power connections, both 12 and 24 Vdc are
provided to power ancillary items, such as a computer, printer, speaker, etc. FEATURES 225 to
399.995 MHz AM/FM UHF line-of-sight, 5 & 25 kHz dedicated SATCOM and 5 & 25 kHz
DAMA SATCOM Meets DoD UHF SATCOM architecture and interoperability requirements
(MIL-STD-188-181, -182, and-183) Transceiver can be removed to provide rugged, portable,
tactical (back pack) configuration. Case includes removable top lid for easy access to equipment in
limited workspace. Soft padded handle for easy carrying. Soft carrying bag with side pocket to
store/carry manuals, printer, etc. May be configured with appropriate accessories to provide carry-
aboard SATCOM on aircraft, ships or vehicles; connects with onboard omnidirectional SATCOM
antenna systems 9 dB standard fold-out SATCOM antenna. New, larger capacity power supply.
Manufacturer warranty, service and technical support
LSSC-6000 - weighs - 61 pounds--------CALL FOR PRICE (CREDENTIALS REQUIRED)
LSSC-7000 - weighs - 63 pounds--------CALL FOR PRICE (CREDENTIALS REQUIRED)