A next generation, multi-function, full face mask provides unrivalled comfort and protection against a wide variety of respiratory hazards. The Promask has many unique features as well as offering proven convenience and reliable performance. Comprised of high quality, hypo-allergenic materials. The outer covering is made from a specially designed elastomer "Procomp", which offers maximum user comfort as well as resistance to chemicals, high temperature and daily wear and tear. The face shield is composed of highly impact-resistant polycarbonate (PC). This durable, hard-coated PC visor provides excellent solvent and scratch resistance. The newly redesigned inner mask is made from non-allergic silicone - specially chosen for its chemical resistance and wearer acceptance. This soft silicone inner mask eliminates the feeling of contact with the skin. Because the inner mask is transparent, it is easy to identify the wearer.

• Approved to EN 136 Class 3, the highest standard for safety.
• The Promask offers an unobstructed field of vision, thanks to its
low profile, wide visor and the placement of the filter.
• Computer-aided design for unparalleled fit & ready wearer acceptance.
• Features a unique contoured form which gives an exceptionally good fit.
• Wide T-bar sealing edge guarantees universal, comfortable anatomical
adjustment with minimum pressure on the face.
• Hose connections or filters (standard 40mm) may be mounted on
either side reducing the likelihood of neck strain.
• Highly efficient speech diaphragm provides clear, natural communication, thereby enhancing both safety and convenience.

The design of the inner mask reduces CO2-content within the mask to a minimum, thereby decreasing user fatigue. It also prevents the visor from fogging by directing the airflow across the visor. The configuration of the airflow channels ensures low breathing resistance. Smooth airflow prolongs battery life when used with power-assisted respirator blowers. Simple to maintain allowing for a long service life, the ProMask can be cleaned without risk of deterioration. The valves are color-coded to facilitate checking and replacement of vital components. All valves are made from flexible, long-life silicone. Weight: 1.2 lbs (0.55 kg) (Mask Only) All Black. Uses any standard 40mm threaded NATO filter.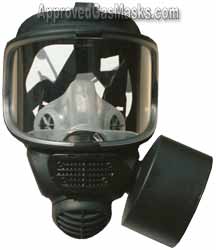 Scott Promask Color Catalog (.pdf)
Scott Industrial Safety Catalog (.pdf)
Scott Homeland Security Catalog (.pdf)


Scott Promask (mask only $179.50)
Scott Promask NBC full KIT
$209.50 - Add to Cart

Above Kit Includes: New Promask and
1 NBC / CBA / RCA Approved
Mestel 'NBC' Filter
Users under 5'-5" tall click here for info