Responder Plus High Performance Chemical Suit

Responder
and Responder Plus utilize a Kappler patented limited-use fabric, Responder was the first material to survive eight full hours of the ASTM F1001 Test Battery with no permeation breakthrough. With over 230 specific chemicals and gases tested to date, you know what you're getting into with Responder. It's tough, designed for mobility, and it keeps out the hazards. Responder is the number one choice for today's hazmat professional. Available in
Level A
and
Level B
totally encapsulating suits, coveralls and splash hoods, with seams sewn then strapped for durability and protection. Large view 40mil PVC face shield.
• Patented fabric consisting of multiple film barriers with unique layers laminated to each side of a 3.0 oz/yd2 polypropylene substrate.
• Lightweight and economical, Responder® offers additional comfort and chemical protection typically found in more costly suits.
• With more than 230 specific chemicals tested to date, Responder® fabric offers the broadest level of chemical protection on the market today.
• The leading fabric chosen by hazmat responders worldwide. Replaceable Butyl gloves. Seams: Taped or Double Taped, Color: Dark Blue
Responder Plus Features
Responder Plus, Kappler's new high-viz orange hazmat garment with the same broad chemical hold-out like the original Responder with a softer & more durable fabric that adds tremendous strength. A true statement of innovation in the limited-use market, this is the next generation of high-tech protection. Seams: Double Taped Color: Bright Orange.
• A softer, stronger & higher visibility version of Responder® consisting of multiple
film barriers sandwiching a 3.5 oz/yd2 polypropylene substrate.
• Offers the same broad range of chemical resistance as original Responder® - with
no permeation breakthrough in eight hours against the ASTM F1001 chemical battery.
• 40mil PVC face shield with 5mil Teflon overlay & two exhaust valves. Attached sock boots with boot flap, replaceable butyl gloves, glove liners & 48" gas-tight PVC zipper.
• Softer fabric provides noise reduction in garments. Color: Bright Orange.
Typical Applications: emergency hazmat teams, chemical handling, petrochemical industry, hazardous materials/waste clean-up, domestic preparedness.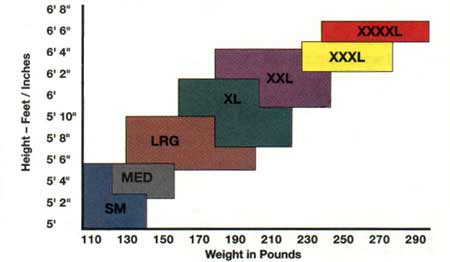 You'll be prompted for your size at checkout.