HOME :: Gas Masks :: Single DP (Domestic Preparedness) Gas Mask Kit w/SmallTalk and Tychem SL-Bound suit
Single DP (Domestic Preparedness) Gas Mask Kit w/SmallTalk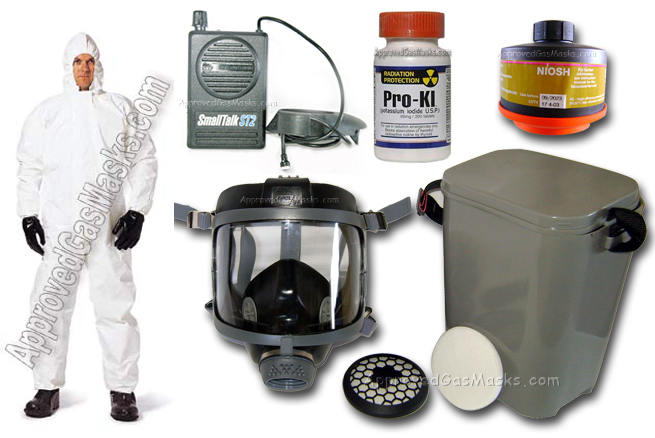 Tychem SL-Bound Suit (Level C / D)
Full face mask respirator for use with filters or supplied air.
Heavy duty use, full time exposure, long term work in areas requiring very high protection levels. The face piece can be used with hardhats and hearing protection
Halo-butyl rubber compound material for great resistance against a wide variety of substances, including chemical and biological warfare agents
Panorama view visor
Mechanical diaphragm for good voice transmission
Can easily be fitted with SmallTalk microphone and loudspeaker
Designed for law enforcement / First Responder use against Chemical/Biological/Nuclear Particulates
NIOSH Approval Codes: TC-23C-2152, TC-23C-2159, TC-84C-02010a
Standard 40mm threaded type, fits all 40mm NATO spec. gas masks (NATO/EN 148-1.40mm) Weight: 12.95oz
Particulate filter contains about 160 sq inches non-woven hydrophobic fibreglass paper
HE High efficiency particulate filter for APR (Air Purifying Respirator) or PAPR (Powered Air Purifying Respirator)
HEPA - P100 (99.97% filter efficiency level) effective against all particulate aerosols.
Single DP (Domestic Preparedness) Gas Mask Kit w/SmallTalk & Tychem SL-Bound suit


ON SALE $247.99
- Add to Cart

(Kit Includes: 1 Tychem SL-Bound suit, 1 New DP Gas Mask, 1 DP (Domestic Preparedness) 'NBC' Filter, 1 SmallTalk microphone & loudspeaker, 1 Filter Retainer & 5 Pack of HEPA Pre-Filters, and 1 PVC storage/carry case
Gas Mask Filter Canisters


We stock Nuclear Biological Chemical and Gas filters for every brand and

model gas mask. Most gas masks use the standard 40mm NATO threaded filters,

but we also carry specialty filters for MSA masks like the Advantage 1000.

NBC gas filters protect against known chemical and biological warfare agents and

have exceptionally high particle-filtration capacity and efficiency as well as a

low breathing resistance.

Click here for our gas mask filter selection
Gas Mask Storage/Carry Bags


Specifically designed for use with gas masks, these bags all feature belt

loops as well as shoulder straps. Enough room for a mask, filter, and maybe

a few other pieces of gear. We have the BlackHawk or Infinity tactical nylon

pouches or unissued military surplus. They range in price from $13.50 to $54.90.

Click here for more information and ordering.
AGM

supplies hundreds of Police Departments and Fortune 500 companies with gas masks, gas mask filters, and all types of survival gear from NBC protective suits to Potassium Iodide and medical kits. Before you purchase a cheap, used mask take a look at our new masks from MSA, SGE and more. Many popular civilian gas masks are modeled after military units, like the MSA Advantage 1000. We offer brand new military masks like the MSA Millennium. For complete Nuclear, Biological, and Chemical protection we have new and surplus NBC suits, hoods, gloves, boots and more. Order online or call AGM anytime for all your safety supplies.

Before you buy a worthless $50 surplus mask, read information and warnings here!
| | | | | |
| | | |
| | | | |


Copyright 2019 Approved Gas Masks