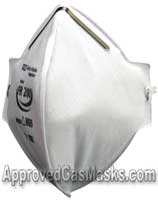 Affinity® Foldable FR200 - N95 Masks

Affinity FR200 Masks are N95 masks at their best, with their low-profile design,
smooth inner lining, and latex-free straps for comfort, fit, and value. Foldable
design easily slips into your pocket, purse or other small space! Suitable for use
by First Responders who may require only a disposable respirator, a relatively
simple filtering face mask for environments threatened by biological warfare.
Unlike other masks, the FR200's foldable design allows the mask to slip into a
pocket, purse or other small space. All masks are latex free & are individually
wrapped. True N95 protection: The Affinity N95 Foldable (FR200) exceeds all
applicable standards for masks of this type. MSA part #D10019587. Affinity N95
masks are made by MSA, the World's largest safety equipment manufacturer.
MSA is the World leader in the production of gas masks & other safety equipment.
MSA equipment is used & trusted by the CDC, Police Departments, US military
& experts in WMD (Weapons of Mass Destruction) protection.
Single Mask - only $3.89 - Add to Cart
 6-pak - SAVE $5 - $18.34 - Add to Cart
 Box of 20 - SAVE $30 - $47.80 - Add to Cart