Hellstorm Stealth Aviator Kevlar Fire
and Slash Resistant Gloves
HellStorm™ is the revolutionary new line of Tactical Assault Gloves designed by the Military and Law Enforcement professionals who actually use them. Built by BlackHawk with the same religious attention to quality that BlackHawk is famous for, they offer a new standard for protection in tactical enviroments. Featuring HellStorm's high-durability leather and fabric treatments, they offer super heavy duty stitching, rugged construction, advanced ergonomic design, and dozens of reliabilty enhancements. Leather is selected only from premium lots. Fire retardant and viral barrier materials exceed tactical requirements.
It is a new class of supergloves for America's new class of heroes. Patrolling in your squad car, chasing down gang members, hunting down terrorists, or full blown military or tactical assaults, HellStorm makes a glove for you. Engineered with the durability and quality required in tactical enviroments.

- Holds snug with excellent dexterity
• Stitch lines for cutting the glove tip off without unraveling
• Heat resistant Kevlar is tested up to 800 degrees F
• Short cuff is 4 inches shorter than standard aviator glove
• Available in sizes med, lrg, xlrg

Hellstorm Stealth Aviator Gloves
$38.50 - Add to Cart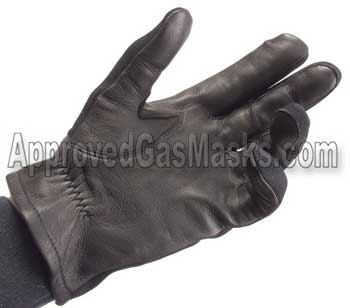 NEW! BlackHawk's HellStorm Gloves have Quad Stitch lines on the index or trigger finger to allow for custom cutting to expose the trigger finger and the rest of the glove will not unravel. This feature is PATENTED.